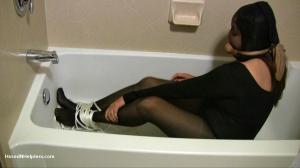 20 photos; 9:23 video
By Law and Disorder
Special Bondage Unit
The Intel Was Wrong Part 3 HD
Poor Kira Dee, this last case is just not going well for her. Wrong room, wrong suspect and just all around bad night for the detective hoping to keep her badge. To add to the humiliation she is left bound and gagged in a tub to end her evening.

Oh this guy is up to no good ..she realizes that as who travels with rope, restraints and gags?

Kira does find her way free of her rope eventually but now wonders why he let her? She makes a note to self to ALWAYS check the room number before entering next time, if there will be one as guessing her job is jeopardy.

She may just follow her last perp..he was not ALL bad.