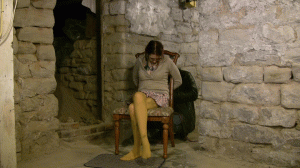 52 photos; 12:31 video
Someone Wants to Meet You Part 1 HD
Bella was bored one evening so posted on Plenty of Cupid Matches in Harmony.com to see what she would find. One profile caught her eye so decided to finally meet after a lot of emails and texts.
He was very particular in his request for her outfit when the subject came up but Bella went with it. "So he likes sweaters, mini-skirts and tights..AND no shoes, how bad can this guy be?"
His home was nothing out of the ordinary and he wanted to meet in his basement which had its own feel but she went with the flow. Poor Bella found out there was a bit more to his profile of cute dogs and face images. She is soon grabbed and tied to a chair as their first meeting unfolds. She does her best to talk her way out of it before her gag. She even laughs to herself silently through it "I actually like this , you have just asked".
He thinks he is done and after a bit of tickling of her feet..goes about his way thinking he has another good "match" tied up downstairs. Bella quickly frees herself and is on her way ..or is she?
To be continued...