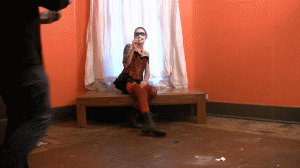 28 photos; 10:05 video
Time to Come Home Haley Quinn Part 1
Haley Quinn has been on the loose for too long but that all changes tonight. Cornered in her home she is given the option of coming in peacefully or face the 7 armed agents outside her door.

She decides it is easier to come back to the asylum quietly. She allows herself to be tied up as she tries to talk her way out of this before she is gagged and set for her trip home.
But she realizes her submission only sets up her escape and her captor seems to be a bit of a fan....it was never a good idea to take Haley Quinn for granted.
To be continued..