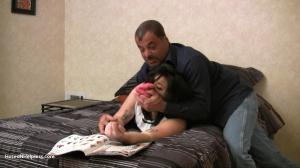 37 photos; 7:27 video
Game Day Payback HD

What started out as a day of cheering for the home team just took a turn for the worse. Alone after the game, Ashteroid21 thought it would be just fun to relax and chill out.
Unfortunately for her she has someone who did not appreciate her enthusiasm especially since it was his team who lost that day. He follows her home,, finds her door open and decides to show her his own team spirit.
Perhaps a momentary win but either way he felt it was needed. Silence from the head cheerleader. Go team.