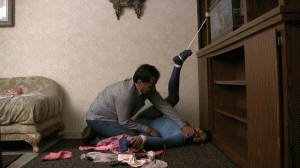 57 photos; 11:46 video
G.L.O.W (Gagged Ladies Of Wrestling)
Syoja's Lesson in Humiliation Part 2 HD

Syoja truly is paying for being caught wresting outside the league. Her former trainer and only key back to G.L.O.W seems to be enjoying the new found power.
He continues with his humiliation of the former champion by incorporating some breath play...a weakness of Syoja normally reserved for private time and not part of training ever.
But he does not stop there. He adds one final touch when he introduces,or better said XXXX, Syoja to continue in her new outfit consisting of the color pink. Talk about true humiliation as NOT her favorite color.
To be continued...