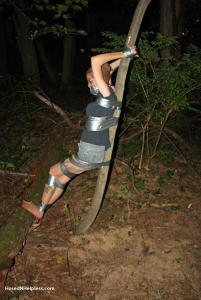 21 photos; 10:28 video
A Walk in the Woods Part 2 HD

Since we last left off, it seems Bella the Bunny's nature walk is not getting much better though she is never one to give up.
More duct tape is added including a few strips to help keep her gag in place. Will this be enough to finally keep her in one place AND silent at the same time?
Or will Bella escape, her gag talk still teasing her captor as she gets free?
I know where my money would be on that wager.