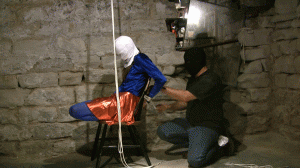 60 photos; 12:20 video
The Perils of Marvelous Girl Part 2 HD
When we last left off with Bella she thought it would be fun to tease the missing Superior Girl and take her place as Marvelous Girl...but with that came a price. Not that easy being a super-hero these days.
Her first attempt in her new persona from those attempted before leaves her bound, hooded and gagged but Bella can certainly handle all of that. But it soon becomes obvious she does have a weakness that makes her escape difficult. Seems that tickling her feet can certainly slow down her well known escape skills.
Will it be enough to keep Bella in her current bonds or will she rise up and find her way to freedom?