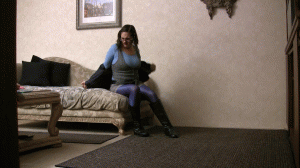 35 photos; 9:19 video
G.L.O.W ( Gagged Ladies Of Wrestling)
Syoja's Lesson in Humiliation Part 1 HD

All Syoja had to do was just honor her agreement and not wrestle while time ran out while on suspension from G.L.O.W.
It was easy enough when the call from her former trainer said she should stop by his home for a simple workout. She figured her recent bouts would never be discovered and she was ready to take her place again at the top of the league.
But Syoja walked right into it...not only did he know about her breaking the agreement but it seemed he was about to teach his former student a thing or two about humility.
To be continued...