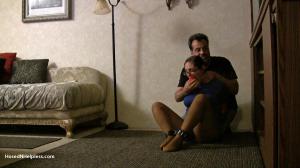 51 photos; 9:52 video
G.L.O.W. ( Gagged Ladies of Wrestling)
Time To Step Aside Part 3 HD


Syoja seems a bit frustrated now that she signed the "no compete" agreement leaving her without the ability to wrestle for the next year.
Her former trainer, with three new prospects, must decide to either trust Syoja to adhere to the agreement or keep her somewhere safe for the year.
As he decides, Syoja does her best to talk her way free though her well packed mouth is certainly not helping her situation much. After some tickling of her nylon feet and some soul searching he eventually allows her to go free.
The question that remains is will Syoja go quietly from her reign as the Queen of G.L.O.W.? Odds are she will not but only time will tell.