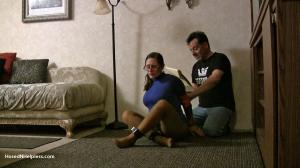 37 photos; 8:31 video
G.L.O.W. ( Gagged Ladies Of Wrestling )
Time To Step Aside Part 2 HD

Syoja is still resisting the offer that she "step" down as champion of G.L.O.W. and allow the new members a chance to shine in the limelight.
It does not help that the offer is made from her former trainer to whom she feels sold her out to just have a few new girls to tie up and "train".
Syoja has an amazing way of complaining through her ball-gag, enough that the only choice is add some wrap to keep her silent. But her trainer wants to break her enough to sign the paperwork, and it includes some tickling of her nylon covered feet that seems to do the trick.
But even with her submission and signing the agreement, it seems this evening is not over yet for Syoja.
To be continued...